BIOGRAPHIES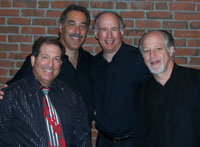 Joel Sussman - Vocals, Piano, Synthesizer and Guitar

Joel began playing professionally in rock bands at the age of 15 while growing up in Edmonton, Canada. After graduating from the University of Alberta, and a year working as a social worker in Israel for Sherut La'am (Israel Peace Corp), he moved to Boston to acquire an MBA from Northeastern University, and now runs his own financial services company and is a Long Term Care Insurance Specialist. He also has served since 1992 as a High Holiday Cantor at Temple Israel of Natick, MA. As one of the group's two songwriters, Joel composes SAFAM's music from his home in Newton, MA where he lives with his wife Debbie. They have three children and two grandchildren: Ari (with his wife Jessica and their son Max), Jonathan (with his wife Sarah and their daughter Julie), and Mera (who will soon be married to Adam).
Robbie Solomon - Vocals, Guitar, Mandolin and Flute

Cantor Robbie Solomon is internationally known as a composer of Jewish choral works and synagogue repertoire. His stirring anthem "Leaving Mother Russia", written in 1979, became the rallying cry of the Soviet Jewry movement and established him as a musical interpreter of Jewish conscience. He has since authored dozens of songs of Jewish content, including "World of Our Fathers", "Falasha Nevermore", and "Peace by Piece."

In addition to over ten original CDs with SAFAM, Cantor Solomon's works have been performed and recorded by numerous cantors and choirs throughout the world.

Along with an Orthodox upbringing in Baltimore, Maryland, and rabbinical study at the Hebrew Union College, Cantor Solomon received conservatory training at the Rubin Academy in Jerusalem, Berklee College of Music, and New England Conservatory. He is certified with both the Reform and Conservative movements, the ACC and CA respectively.

Cantor Solomon served as a full time cantor for over forty years largely in the Greater Boston area. He has retired after serving 9 years at Baltimore Hebrew Congregation where he is now Cantor Emeritus. He and his wife, Helen, have moved back to Massachusetts. They have two sons, Byron and Sam, a daughter-in-law, Kristy, and three grandchildren, Nicolas, Leo and Luciana.
Alan Nelson - Vocals and Synthesizer

Alan was born and raised in the Boston area and formed an early appreciation for Jewish music at his synagogue where he directed Temple and youth group choirs. He attended Northeastern University and later, the Chaloff School of Music. While there, he served as music director at a Jewish summer camp and was a founding member and Assistant Conductor of the Zamir Chorale of Boston. After a 35-year career in purchasing and marketing with a successful Boston-based retail chain, he has turned his attention to insurance sales. Alan currently resides in Framingham, MA with his wife Debbie and their children Michelle and Adam.
Dan Funk - Vocals

Dan's musical career began in high school where he performed in a barbershop quartet, a choir and a rock band. However, his affinity for singing Jewish music began at a much earlier age at the Shabbat dinner table and at the Funk family Seders. After performing with the Zamir Chorale of Boston where he met Alan and Joel, he was instrumental in forming Safam in 1974. As one of Safam's lead singers, Dan's strong lyrical tenor voice is heard on most of Safam's Hebrew songs. He continues to serve as Safam's business manager.

Dan has been a High Holiday Cantor for more than 35 years chanting at various Boston area synagogues during that time. For the past 19 years, he has been the High Holiday Cantor at Temple Beth Torah in Holliston, Massachusetts.

Dan was raised in Highland Park, New Jersey, attended Rutgers University, and received his law degree from Northeastern University School of Law in Boston. He lives with his wife Marcia in Newton, Massachusetts where he served as City Solicitor for 32 years.

Dan and Marcia have four children: Josh, Aaron, Jessica and Emily. Josh and his wife Lauren are the parents of the first two grandchildren of Safam – Chloe and Declan Funk. Recently, Aaron and his wife Janel became parents to Zachary Funk.
Mark Snyder - Bass

Mark has been a fixture on the Boston music scene since 1976. His "sideman" credits include work with the Gary Burton Quartet, The Coasters, the Marvelettes, Little Anthony, Brian Hiland, and the Ink Spots. He has recorded and toured extensively, playing in New York City jazz clubs as well as concerts and nightclubs across the United States and Europe. He is the leader of the Mark Snyder Quartet. Mark holds a degree in Composition from Berklee College of Music. He is a prolific composer with experience in film scoring. He is a member of the faculties of Noble & Greenough School and the South Shore Conservatory.